Successful construction relies on knowledge of the subsoil and geology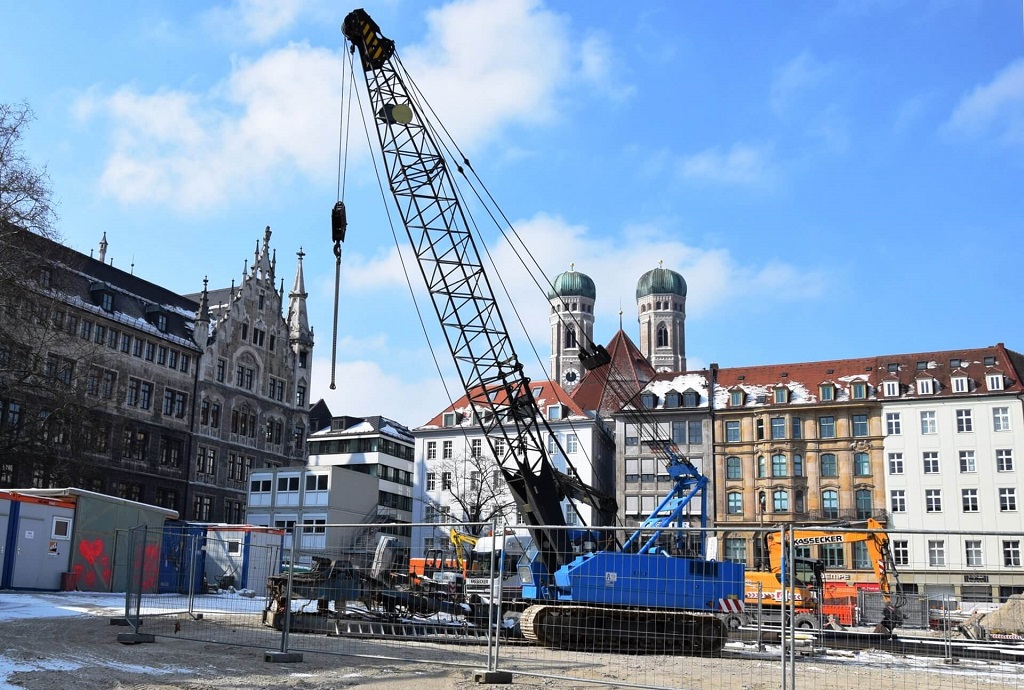 Existing development in Munich means the new core route tunnel must run deep below the surface. The designers had a useful head start: the ground beneath the city centre has already been extensively studied in the past in order to build the U-Bahn system and the existing core route. These surveys provided important insights into the local geology.
However, the planned course of the second core route deviates from that of the U-Bahn lines and the existing core route. Extensive geotechnical investigations were therefore carried out along the planned route as well.
Geotechnical investigations
Before a construction project like the second core route can be realised, it is important to have detailed knowledge of the local geology. This means carrying out geotechnical investigations, for example by drilling boreholes and conducting laboratory tests. These help answer various important questions: What is the composition of the soil? What rocks and sediments are found here and what properties do they have? What is the level of the groundwater? Does the groundwater level fluctuate?
The results are analysed in line with the relevant DIN standard. Using the findings, it is possible to calculate the maximum permissible load that can be applied to the ground and the expected settlement of the planned structures and surroundings. The findings directly influence the choice of construction methods and materials and determine whether the ground needs to be reinforced in certain areas. Ultimately, the geotechnical investigations also determine whether the planned construction project is feasible.
Exploratory drilling for the second core route
A total of six exploration campaigns with 227 exploratory boreholes up to 95 m deep have been carried out for the construction of the second core route since 2004. In addition, various geotechnical laboratory investigations have been carried out, for example on the swelling and adhesive properties of the clays and abrasiveness of the sands.
Measurement data has also been collected regularly from 143 groundwater monitoring points set up especially for the project in 2004. These have provided around 30,000 readings a year.
Findings of the investigations
The boreholes confirmed the familiar picture of Munich's geology. It has a heterogeneous structure, i.e. there are alternating layers of coarse gravel (and to a lesser extent fine gravel), sand, clay and silt. In some areas, soils have solidified into solid rock due to the presence of calcite. The alternating soil layers are criss-crossed by various interconnected "groundwater storeys".
The results of the investigations were used to determine the construction methods and materials to be used as well as the measures needed to secure the ground and existing buildings. The depth of the tunnel and underground stations means that high pressure from the surrounding soil and rock must also be taken into account.