A modern mobility hub
At Munich Main Station, the second core route will run beneath all existing platform levels. The new Munich S-Bahn station will be built at a depth of 41 m. Passengers will enter through a centrally located main entrance to reach the new station and all other levels quickly and conveniently. This will make it easier to switch between different modes of public transport.
The new S-Bahn platforms at Munich Main Station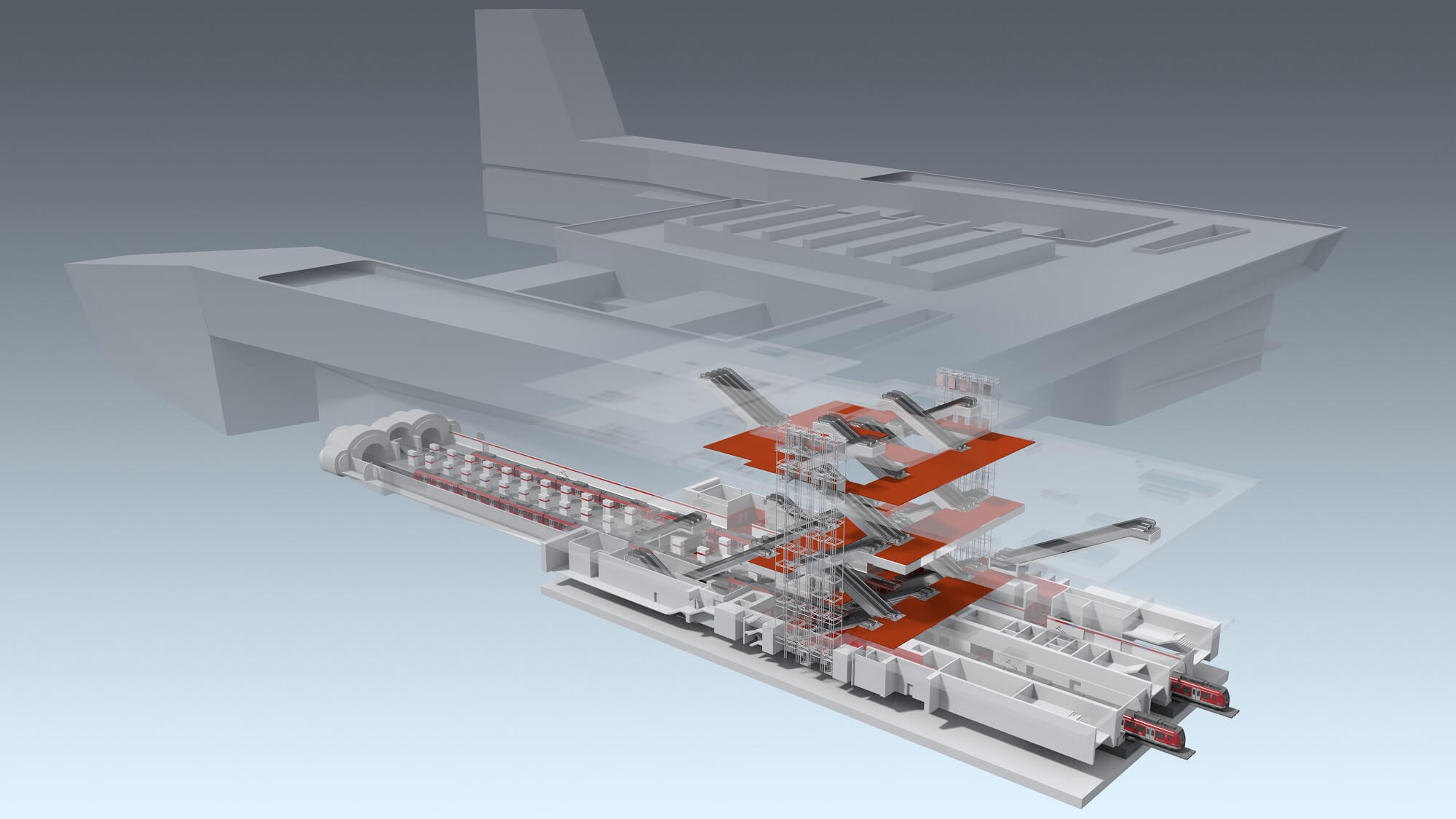 The platforms will be 210 m long. As in the existing S-Bahn station, passengers will board and alight via two separate platforms simultaneously, with doors opening on both sides of the train in a configuration known as the Spanish solution. A 14.7-m-wide island platform will be built between the two tracks for boarding, and a 5-m-wide side platform will be built next to each track for alighting.
Although the new platforms are being built deep below ground, they will be rapidly accessible via a centrally located main entrance featuring a total of ten high-speed lifts and numerous escalators.
Connections to other modes of transport
In addition to serving the surrounding Bahnhofsviertel district, the new S-Bahn station will function as a public transport hub providing easy interchange to:
Long-distance and regional trains in the terminal station
Other S-Bahn lines which use the parallel core route tunnel at the northern end of the station
The U1 and U2 U-Bahn lines running north-south beneath the station forecourt
The parallel east-west U4 and U5 U-Bahn lines at the southern end of the station
Above-ground trams and buses
The U9 U-Bahn line to the west of the station building (future construction project)
Construction work at Munich Main Station
The new subterranean station for the second core route is being built beneath the now-demolished ticket hall of Munich Main Station and will have a centrally located main entrance. This entrance is being built using the diaphragm wall/cut-and-cover construction method. You can find out more about the diaphragm wall/cut-and-cover construction method here.